The Alaskan Malamute Assistance League is proud to announce the recipients of the 2010 Christenson Award! The aim of The Christenson Award is to recognize those people who are always there, working and volunteering beyond the call of duty, yet are seldom in the limelight. Congratulations to all the recipients!
Kris Janowsky – Northern Lights Sled Dog Rescue in Indiana

Kris Janowsky, 2010 Christenson Award recipient, with a couple furry friends.
Liz Copp, Katy Flanagan, Freddie Qualls and Niki Tischhauser – Moonsong Malamute Rescue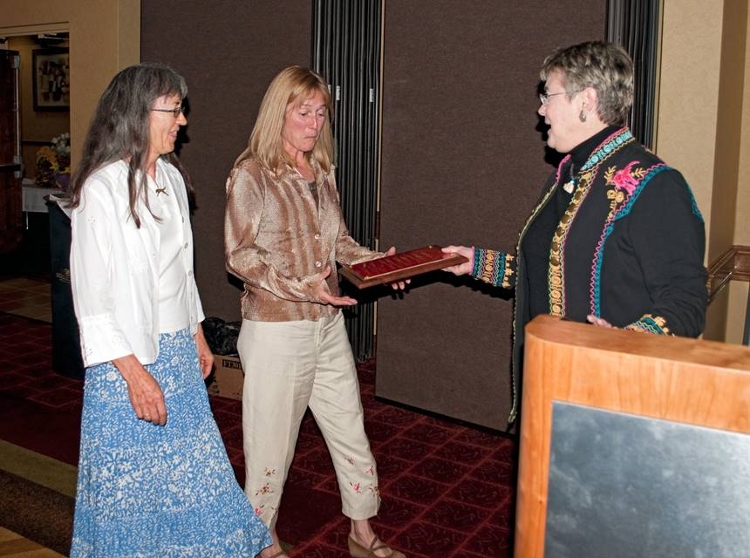 Katy Flanagan and Niki Tischhauser, with Moonsong Malamute Rescue in Idaho, accept the Christenson Award from Lynne Anderson.
This award was also for Liz Copp and Freddie Qualls, Moonsong volunteers who couldn't be present. The award was in appreciation for their participation in the "extraordinary rescue on skis of the Eight Above Malamutes from a Montana mountainside."
In addition to the Christenson Award, Lynne and Dan Anderson were both presented with the AMCA Outstanding Service Award. The Award reads; "Lynne and Dan Anderson have contributed their time and efforts toward bringing ALL Malamute people together for the purpose of helping our dogs in need. They have succeeded in creating an atmosphere of respect and understanding between rescue volunteers and breeders, ever mindful of the fact that we need each other in order to have a truly successful and effective organization. Their many kindnesses, generosity, care and concern have been ever-present through their love of Alaskan Malamutes wherever they may be."

Lynne and Dan Anderson were bestowed with the Outstanding Service Award from AMCA for all the work they do to help bring all the Mal people together to help dogs in need!