The Alaskan Malamute Assistance League is proud to announce the recipients of the 2011 Christenson Award! The aim of The Christenson Award is to recognize those people who are always there, working and volunteering beyond the call of duty, yet are seldom in the limelight. Congratulations to all the recipients!
Colleen Belanger – Golden Years Alaskan Malamute Rescue (GYAMR)
Colleen has been working with Golden Years for about 9 years and has helped with breed ID, transport, fostering and training. Golden Years has been able to help more dogs thanks to her help even though she lives on the other side of Michigan from them. Colleen also assists Closer to Home Animal Advocates (CTHAA) and Illinois Alaskan Malamute Rescue (IAMRA).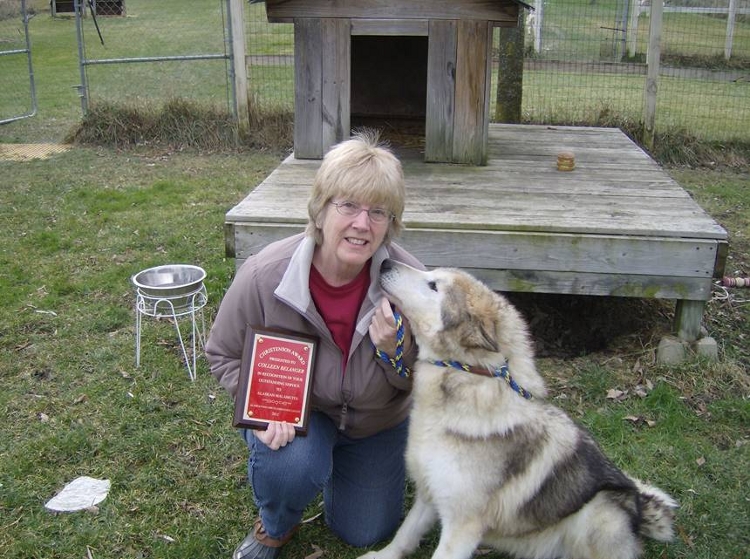 Colleen Belanger, 2011 Christenson Award recipient, with her furry friend, Cheeko. Photo by Dave Belanger
Brian Brunner – Washington Alaskan Malamute Adoption League (WAMAL)
Brian Brunner has been volunteering with WAMAL for about 9 years and has been a Mal owner nearly all his life. Brian coordinates and leads most of the cross-state transport efforts for WAMAL, which has earned him the nickname, MalMobile Man. He seems to always be able to magically pull a transport together in an emergency, saving many dogs that would have been euthanized otherwise. He has clocked around 5000 miles on his MalMobile in 2011 alone, transporting dogs to their new homes.

Brian Brunner with his furry friend, Rosemary, and his "MalMobile". Photo by Barb Brunner