The Alaskan Malamute Assistance League is proud to announce the recipients of the 2013 Christenson Award! The aim of The Christenson Award is to recognize those people who are always there, working and volunteering beyond the call of duty, yet are seldom in the limelight. Congratulations to all the recipients!
Cindy Klettke – Washington Alaskan Malamute Adoption League (WAMAL)
Cindy Klettke has been a WAMAL volunteer since the beginning of time. WAMAL time that is: she was an original board member in the late 90's and retired from the board about six years ago to spend more time biking, hiking, and snowshoeing.
Cindy has always had two malamutes of her own, and has at times had two or three foster dog in her 1000 square foot home in the Seattle area. I recently asked Cindy how many dogs she has fostered for WAMAL . She stopped counting at 40!
For years Cindy has been our go-to volunteer for injured, terminally ill, and very shy dogs needing special attention. Using her special way especially with shy and scaredy dogs, she has been able to change them to adoptable dogs every time. Her prescription for doing this is hike, hike, hike with a group of malamute and husky friends, and using a unique combo of wearing them out while socializing them in a comfortable setting.
Cindy is the "Foster Mama" referred to in the recent book titled, Kuruk: The Little Bear That Could which details her work with one of the mal mixes brought down after the large Matanuska- Susitna seizure. She is also the current foster mom for Strider, an extremely shy first-release Aluk mal. Strider escaped from a former foster in November of 2012 while on his way to Cindy's house. She spent the next month searching for him, staying calm and giving advice to the neighborhood he adopted. Eventually friends and volunteers helped her trap him. She spent every moment at home for months with Strider literally leashed to her waist so he had to socialize. We are all pretty sure Strider will stay with Cindy.

Cindy Klettke
Tammie Variano – Illinois Alaskan Malamute Rescue (IAMRA)
IAMRA is very blessed to have Tammie Variano as a volunteer. She works tirelessly in all aspects of our rescue, from fostering special needs and sanctuary dogs, to fundraising for our adoptable dogs, and everything in between. She has done countless transports and home visits, helped bottle feed litters around the clock, and held hands and shed tears with those who have had to say good bye to their best furry friends at lifes end. Tammie had worked with us for a decade, never wavering in her dedication to helping the homeless malamutes. She is truly a jack of all trades when it comes to rescue, always willing to roll up her sleeves and help, in whatever area is needed, from handling intakes and adoptions to grooming and poop scooping. IAMRA could not save so many without her help – she is the one in a million volunteer that never lets go of the leash.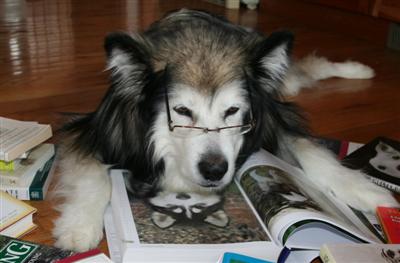 Tammie's Malamute Wookie