The Alaskan Malamute Assistance League is proud to announce the recipients of the 2016 Christenson Award! The aim of The Christenson Award is to recognize those people who are always there, working and volunteering beyond the call of duty, yet are seldom in the limelight. Congratulations to all the recipients!
Tara Cosgrove and Matt Vaughan – Washington Alaskan Malamute Adoption League
WAMAL's dynamic duo expend tireless, extraordinary efforts. Involved in nearly every aspect of rescue operations, they are among WAMAL's most reliable volunteers. They become acquainted with each malamute, conducting individualized training and exercise programs. Matt often roller-blades with WAMAL's malamutes, providing fantastic engagement and energy release for these active dogs (it is not only an impressive sight but quite brave!). In addition, Tara and Matt assist with vet visits, typically requiring immediate coordination and availability. This significantly increases adoptability of WAMAL's malamutes.
Matthew Gugat – Taysia Blue Rescue
Taysia Blue Rescue was only month's old and looking for volunteers and foster parents. A Craigslist ad found Matthew Gugat. He immediately fostered a dog and has had at least one foster in his home every day for the last five years. He is our go-to person for dog training and evaluations, and he typically accepts the most difficult dogs. He is also an adoption counselor, instrumental in developing training materials, writing job descriptions, refurbishing crates, generating donations, transporting, and providing emergency dog sitting. For example, one of our volunteers was diagnosed with leukemia and needed to spend four months in Houston. Matthew took in this volunteer's dog until he was well enough to have her home again.
Matthew pushes Taysia Blue Rescue to improve continuously. He is enrolled in Service Enterprise training with the hopes of passing certification for Taysia Blue Rescue as a Points of Light Service Enterprise Organization. Matthew has attended two animal welfare conferences and recently was recognized as generating the highest number of donations during a 24 hour giving event. Matthew takes on anything and everything thrown his way, and seems almost embarrassed by recognition. Matthew is just 27 years old.
Kacy Smith and Steve Carlston – Moonsong Malamute Rescue
Both of Moonsong's nominees for the Alaskan Malamute Assistance League's Christenson Award have been chosen as recipients for 2016 along with two other recipients from other AMAL affiliates. Kacy and Steve have both been invaluable to Moonsong with their help assessing, fostering, transporting dogs and more! The aim of the AMAL Christenson Award is to recognize those people who are always there, working and volunteering beyond the call of duty, yet seldom in the limelight.


Kacy and Steve accept their awards at the 2016 Rescue Showcase in Colorado Springs, CO in October.
Kacy fell in love with the Malamute breed while living in Alaska. Several years ago she moved to Idaho, and contacted Moonsong to begin fostering and volunteering by transporting and other ways. As would be expected, she is a 'failed foster' and has adopted Faina from Moonsong. Who can resist having a Malamute of their own?
In her capacity as a volunteer she has made herself invaluable to us for fostering. She goes above and beyond to make the foster dog feel at home. She is diligent in care; taking dogs to their required vet appointments, rehabilitation and training, and has been very generous in that regard, paying for these out of her own pocket. The care and love Kacy bestows on each and every rescue that comes into her home, no matter how briefly, makes a large impact on the rescued malamute.
She has been known to take 800 mile transport trips to make sure the rescue Mal makes it safely to his/her new home. Considering the immense size of our assistance area, transport is a huge thing!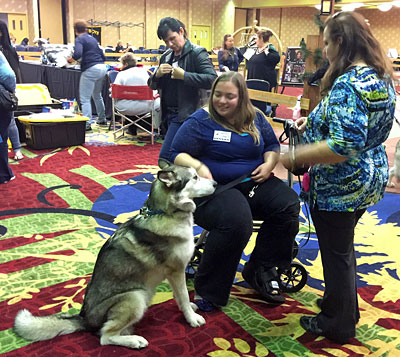 Kacy, her Mal Faina and her mother, Kristyl, at the Rescue Showcase.
Steve is married to Lorran Carlston, a board member of our rescue. He has been so supportive of all her endeavors with dog rescue; building additional kennel space, shoveling snow out of the pens, taking Lorran to dinner when she's exhausted from all that goes with it!
However, we want to give him accolades for the many, many trips he has taken to bring dogs into the rescue. As mentioned earlier, our huge assistance area can pose real problems when urgent situations present themselves. That's where Steve is always willing to dive in! He has driven literally thousands of miles to bring dogs to safety. We actually have presented him with a Super Man T-Shirt, when a dog is in need and it's far, far, away we ask Super Man to shake out his cape! He always does!

Superman Steve with wife Lorran enjoying the Rescue Showcase.