The Alaskan Malamute Assistance League is proud to announce the recipient of the 2017 Christenson Award! The aim of The Christenson Award is to recognize those people who are always there, working and volunteering beyond the call of duty, yet are seldom in the limelight. Congratulations to this year's recipient!
Mimi Tello Botdorf – Chesapeake Area Alaskan Malamute Protection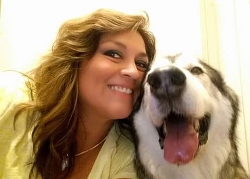 With Mimi's big heart, love of animals, endless energy and devotion to CHAAMP, we are able to get out and help spread the word for our adoptable malamutes as well as educate the public. She volunteers her time to run the fundraising face book page and the Instagram account getting adoptable malamutes to the public eye. Mimi has contributed tremendously over the years and helps with collecting donations as well as looking for ways to get others involved. One of Mimi's hobbies includes working as a makeup sales consultant, which she donates proceeds from to CHAAMP. Initial contact was made by Mimi with an all-natural salmon treat company that regularly donates to the CHAAMP Malamutes.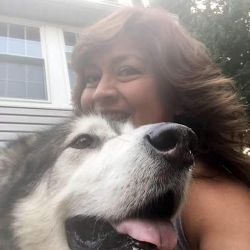 Her dedication and enthusiasm is contagious and she is always there when you need her. Without a moment's hesitation, Mimi is jumping in to help, whether attending meetings, setting up events, picking up donations, transporting a dog or taking photos- she is always there when you need her. CHAAMP's event coordinator loves how faithful Mimi is and appreciates how she gets involved more and more each year. Mimi and her family adopted their Malamute Ares from CHAAMP in 2013 and although he has ailing health issues, Mimi is fully dedicated to Ares and his needs. Ares couldn't have found a better hu-mom and family! Balancing a full-time job, teenage son, and volunteering for a rescue are not easy tasks but we know we can always count on Mimi to be there and CHAAMP would be lost without her! With her contagious smile you can always count on Mimi to keep the Team going …. Go Team CHAAMP! has always been Mimi's motto from the beginning.